Champion Aerospace Rebuilt Slick Magnetos

Airpart Supply have been appointed+ the exclusive~ distributor for Champion Aerospace rebuilt slick magnetos.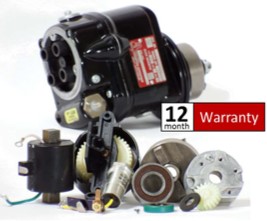 Rebuilt to factory new specifications
The same 12 month warranty as a new magneto
95% of detail parts replaced. Only housing and rotor retained
All work done in accordance with Champion Master Service Manual
No PMA parts or DER repairs
No core bill backs
Unlike cores accepted
25-30% savings versus new
*The retail value of additional parts replaced on Rebuilt units is over $1700.
REBUILT
VS
OVERHAULED

Rebuilt in accordance with Champion Aerospace master service manual L-1363

Manual

To alternative aftermarket manual(s). Requiring DER approval

YES

Replace ALL Wearable Parts

NO

YES-100% Genuine OEM Parts

Use 100% Genuine Factory OEM parts

NO

YES-1 Year

Same Warranty as a New Magneto

NO-6 months

Contact points, Carbon brush, Capacitor, Bearings and Cap, Oil Seal and Rotor Gear
Also Replaced: Coil, Impulse Coupling Assembly, Block and Gear*
Parts Replaced

Contact points, Carbon brush, Capacitor, Bearings, Oil seal, Rotor gear, and Impulse Spring ONLY
To purchase a Champion Aerospace rebuilt magneto, simply type the 'Slick' part number in the serach box provided above. (The rebuilt magneto will show as an alternate against all other variants)
Click for the QAA Certified Champion Repair Station Certificate
For more information on Champion Rebuilt Magnetos visit the Quality AIrcraft Accessories website at http://www.qaa.com/rebuiltslick
For more information on Champion Aerospace and their range of ignition products visit https://www.championaerospace.com/
+Appointed by Quality Aircraft Accessories who are in agreement with Champion Aerospace
~Exclusivity is for Europe and The Middle East only. We are able to sell to other regions on a non-exclusive basis